UK Border Agency Able to Arrest Over 120 Illegal Immigrants in Gwent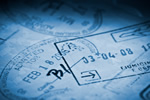 The UK Border Agency has been catching a lot of heat recently. A lot of that has to do with the fact that immigration issues are taking center stage in the UK right now. That being said, a lot of the positive work that this agency does goes unnoticed. Case in point, the UK Border Agency has been able to arrest more than 120 illegal immigrants in Gwent alone. This has been done over the past-two-and-a-half years.
These new figures were recently released from the UK Border Agency. It was given out to the media thanks to the Freedom of Information Act. It shows that people from 26 different countries have been arrested in Gwent for immigration offenses. These people have been picked up since April of 2009.
By looking more closely at the figures, people can see that arrests have gone down. In fact, between 2009 and 2010, the agency arrested 71 people in Gwent. This number fell to 44 between the years of 2010 and 2011.
The raids that the UK Border Agency has made would not be possible without the help of the general public. In fact, these raids are typically carried out thanks to intelligence and information that has been fed to the agency from tips. This proves that even Brits are doing their part to help keep immigration numbers low.
Of course, it is going to take more work like this all over the UK to keep illegal immigration numbers down. If people suspect that a business is using illegal workers, they need to contract the UK Border Agency right away.