UK Border Agency Raises Concerns with United States Visa Decisions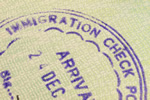 According to some new reports, it would appear that some concerns have now been raised in regard to United States visa decisions. Apparently, more than three in five decisions to refuse family visas to those who wish to visit the UK from New York were overturned by managers. These visas were overturned before going to appeal.
John Vine, who is the chief inspector of the UK Border Agency, said that he was concerned about inconsistencies. However, the lack of transparency and the number of decisions overturned before an appeal in the office. These are all very troubling issues that need to be dealt with.
In one certain case, the decision to refuse a woman permission to join a partner in the UK was overturned. Apparently, she wished to move to the UK after meeting the man over the internet. However, she was unable to show contact or communication between them. Apparently, the woman was still allowed to settle in the UK. The inspectors said that similar applicants in the past have been refused. The case's credibility is very weak at best.
Inspectors said that the UK Border Agency has chosen not to address the chief inspector's specific concerns. They said that each case has different reasons why it may or may not be accepted. No two cases can be treated the same. There are special circumstances for each case.
Mr. Vine said that he was very concerned about the lack of transparency in the UK Border Agency's inconsistency. It is very imperative that the agency ensures that its workers adopt a right first time approach.