Visa Free Travel Being Discussed Between EU and Russia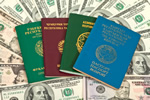 It now seems that there are some discussions going on regarding visa-free travel between the European Union and Russia. Currently, it is anticipated that the European Union is likely to agree to visa-free travel between the Russian territory of Kaliningrad and its neighboring European Union member states. The deal could be closed as early as this week.
For those that do not know, Kaliningrad is a very small territory in Baltic Russia. It is separated from the main body of the country by the European Union member states of Poland and Lithuania. History goes on to show that it had been part of the former German East Prussia province and was annexed by the Soviet Union following World War II.
Reports show that the deal for visa-free travel has been drawn up just in time for the European Union-Russia summit that will take place in Brussels. Some reports have suggested that European Union officials have accepted the deal against the background of huge changes in Russia.
In light of this news, it is very likely that the European Union and Russia will announce common steps towards a wider visa free travel agreement. One European Union official said that the summit is expected to see the approval and launch of the implementation of common steps. This is going to be treated like a road map for things to happen for the European Union to agree with Russia on this front. It is very likely that Russians will welcome this new visa free travel agreement.