Immigration Loophole to be Closed by More Checks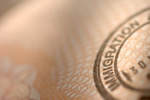 It now seems that the loophole that is allowing passengers to enter the UK without passport checks is going to be controlled by, that's right, more checks. The UK Border Agency said that 'tighter controls' will have to be introduced to stop Eurostar passengers from entering the UK without passport checks.
Not too long ago, it was learned that people are able to travel from Brussels to Lille without showing any kind of passport. That is because both areas are in the Schengen area. However, the people who stay on board can travel to the UK without a passport check as well.
Jonathan Sedgwick, who is the International Group Director, said that he was in discussions with Belgian authorities, as well as with Eurostar. This is a problem that they want to take care of right away. He did admit that the current 'risk-based' checks need improving big time.
This loophole is being called the Lille loophole. The UK Border Agency has been aware of this loophole and has been trying to fight it. However, some internal documents from the UK Border Agency suggest that staff have been faced with arrest threats by Belgian police if they do not stop exploiting people on their trains. This makes it hard for agents to check people's passports who are going to continue on to the UK.
The truth of the matter is simple, thousands of people travel on this route everyday with Eurostar. The good news is that most of them are legitimate travelers. However, there are a number of people looking forward to abusing this loophole.