Eurostar Passengers Find Way into UK Through Loophole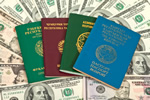 No matter what the UK Border Agency tries to do, there always seems to be some kind of loophole that is found in the system. It now appears that a loophole on Eurostar trains is allowing people to enter the UK without any kind of passport check. On top of this, London is actually powerless to do anything to stop it.
Recently, British border officials have been trying their best to seek suspected offenders at the Brussels train station. However, these officials have now been threatened with arrest by Belgian police.
So now the question is: What is this so called loophole? Well, it is actually referred to as the "Lille Loophole." Pretty much, it allows passengers riding on Eurostar to miss border checks by buying a train ticket from Brussels to Lille in northern France. Then, all the passengers have to do is stay on the train until they get to London.
The UK Border Agency operates border controls in the country of departure. So, if a passenger buys a ticket from Brussels to London, he or she goes through a passport control check. However, if they buy a ticket from Brussels to Lille, which is part of the Schengen zone that allows people to cross members' borders without a check, they do not have to.
Since no one actually checks whether passengers get off at Lille or not, the UK Border Agency does not get to perform checks on board. These passengers can actually get into Britain without having any kind of checks done on them.