Public Sector Unable to Cause Border Delays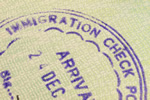 For the past week, everyone has been worrying about the public sector strike. After it was learnt that UK Border Agency staff members were taking part in the strike, people assumed that there would be long lines at immigration checkpoints across the UK. However, it turns out that this was not the case.
Ports and border immigration checks were operating smoothly as of yesterday. Despite the public sector strike, there were no long delays caused by border checks. The Immigration Service Union said that at least 80 percent of its members had joined the national day of action. Thus, it is shocking that no delays were announced.
Heathrow Airport, as well as many other airports, said that they had no significant delays as a result of immigration to report. This could be because the airports asked airlines to cut back on the number of international passengers they flew on this day. The airport was asking airlines to cut back as much as 50 percent.
The UK Border Agency did have a contingency plan, which some people did not know about. Apparently, it involved volunteers from other parts of the government to come in and act as border agents. It is believed that this really helped minimized the delays that would have been experienced.
The UK Border Agency did decline to give any kind of details on just how many staff members they had working at ports across the country. However, the group did say that the security of the UK border remains their top priority. They are working hard to manage any disruptions throughout the rest of the day.