Asylum Seeker Fights Deportation After Raping Child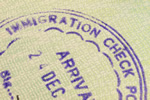 There are certain things that some people feel are unforgivable. Raping a young child is one of those things. Thus, if an asylum-seeker was to rape a child, most would assume he would be deported. What if he raped more than one child? Why was he even given the chance to do so?
According to reports, a convicted sex attacker raped and molested two very young girls. However, he has been fighting his deportation on human rights grounds. The asylum-seeker in question is William Danga, who is 39 years old. Reports show that he abused children both before and after he was jailed for raping a teenage girl.
One of the girls whom William attacked was four years old. Apparently, he forced himself on her just before he headed out to preach as a Jehovah's Witness. The judge assigned to his case said that it is simply remarkable that this sex attacker was not thrown out of Britain ten years ago when he was jailed for raping a 16-year-old girl.
When he got out of jail, officials were ordered to deport him. Apparently, he was able to delay their efforts after his passport was lost. Then he was freed on immigration bail and went on to challenge his deportation on the grounds that he had a right to a family life. In fact, he had a child with a young girlfriend.
Many people are now starting to question the way Article 8 of the Human Rights Act is being used. People are committing terrible crimes and being allowed to stay in the UK because of their right to a family life.