Another Illegal Migrant Found Working in UK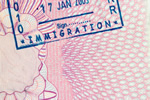 Everyone by now knows that the UK Border Agency is really cracking down on illegal migrants who are working in the UK. Pretty much, the agency wants to stop anyone from working in the UK that does not have a right to be there. Not only is this an attack on migrants, but it is an attack on any company that does not follow the proper process of hiring people. If companies are found to hire illegal migrants without preforming the proper checks, then the company can be charged a civil penalty.
This time it would appear that the agency was able to find a 51-year-old Malaysian woman working illegally at a takeaway restaurant in County Londonderry. She has been arrested for working illegally in the country. This operation was handled by the UK Border Agency. The group chose to raid the Lucky Dragon in Garvagh after they received a tip about an illegal worker.
Sometimes these tips turn out to be fake. The agency storms a building, and they find that everyone there is legal. However, the agency still checks on every case called in. They do this in the off-chance that the information that they receive is legit. Of course, the agency has been receiving a lot more calls ever since the Prime Minister told citizens to take immigration matters into their own hands by informing the UK Border Agency about suspicious people.
After checking into the immigration status of this lady, the agency found out that the woman had overstayed her visa. Right now the woman has been detained, and steps have been taken to remove her from the country.