UK Government Looks to Restrict Family Immigration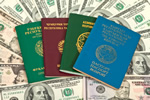 It now appears that the UK Prime Minister looks to make it harder for immigrants to bring their families to Britain. This is yet another step that the UK is taking to tighten its border controls. The government is hoping that this new rule could help decrease the number of immigrants who show up on British shores every day.
To enforce this new law, the UK government is saying that they may increase the amount of money that someone has to make in order to bring their family to the UK. Not only that, but the government would like to come up with a test which couples have to take to make sure they are in a genuine relationship. Of course, this test will not be given just once. It will be given many times over the course of years to make sure that the couple stays in a relationship.
When speaking on the matter, Prime Minister David Cameron said that people want to move to different countries and be with their loved ones at the same time. However, the government has to make sure, for the sake of the British people, that those who come to the UK are genuinely coming for family reasons.
Of course, this is just one thing that the government is doing to tighten up on immigration. However, there is not much the UK can do to stop European Union immigrants from moving to the UK. They, pretty much, are free to do this at will.