UK Border Agency Being Accused of the Detention of Kids Again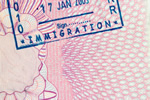 Some may remember, not too long ago, the UK Border Agency said that it was going to halt the detention of kids. A lot of people were against putting kids in immigration centers. Now, however, it would seem that the UK Border Agency has been accused of that again.
New reports now show that some 700 kids have been detained at south-east ports in a four-month period to August. A Children's Society spokesman said that the organization was horrified at the excessive number of kids who are still being detained in the UK.
It is believed that close to 2,000 kids a year are detained in the UK. Unfortunately, for the kids, many of them are unaccompanied by adults. These numbers are alarmingly high considering the fact that the government has promised to end child detention.
According to information revealed in a Freedom of Information request, some 700 kids have been detained between May and August. This has happened despite the government's pledge in May to end the immigration detention of all children.
Not only that, but a third of the 700 kids detained were actually unaccompanied. No information was kept about why, or how long they had been detained. The chief executive of Children's Society Bob Reitemeier, said that it is very disappointing that the government is not sticking to its pledge to end child detention.
He went on to say that it is of great concern that this appears to be happening without sufficient monitoring by the Home Office. Right now there is no information on why some of these kids are being held, or how long they have been held.