Criminals Posing as UK Border Agency Officers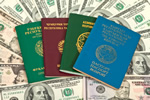 It now seems that a family has been left living in fear after being targeted by burglars twice in five months. Apparently, these criminals are posing as UK Border Agency staff members. Reports go on to show that a 10-year-old boy and his 17-year-old sister were at home in Ridegway Road, Chesham when the burglary took place.
This kind of stealing has its own name. It is called distraction burglary. Pretty much, the criminals are able to work their way inside the home by pretending to be people that they are not. After that, one of the burglars keeps the people busy, while the other goes around and robs the family.
In this case, one of the burglars worked at keeping the kids in the kitchen. The other men went upstairs and stole credit cards, passports, and between £25,000-£30,000 of Asian gold. The father of the family, age 46, said that they do not feel safe at the moment. This is looking like a third-world country right now. He moved here hoping that it would be safer in the UK, and clearly, it is not. He finished up by saying that he has worked in the UK for 35 years, and he pays all of his taxes, but yet his home is still not safe.
When the men forced their way into the house, the sister was going to run and get help. However, she stayed after she saw one of the men twist her brother's arm when the lad tried to phone his father. The dad had just left for work when the son had answered the door.
The eldest daughter said that she has been planning to go to college. However, with the way things are, she is worried about leaving her mother home alone.