UK Border Agency Issued Warning Over Racism Claims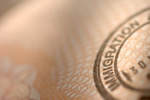 It now seems that the American singer Kelis said that she was subjected to racial abuse when traveling to a London airport. Apparently, she said that she was refereed to as a 'slave' and a 'kunta kinte' by a number of white members of the public. The real problem is, when the singer went to tell a member of the UK Border Agency about the comments, he laughed about it. This has caused the London Mayor, Boris Johnson, to write a letter of warning to the UK Border Agency.
When speaking on this issue, Johnson said that he was just completely appalled by the singer's claims. The mayor said that his letter is supposed to remind the UK Border Agency that they are the 'face and voice' of modern Britain, and they need to act like it.
This issue was brought to light after the American singer took to her Twitter account to inform the world of her ordeal. Not too long after, Mr. Johnson wrote to her on Twitter saying that he heard about the treatment that she had received at a UK airport. He then told her that this is not typical, and he is completely appalled by it. Johnson also wanted her to know that he is on the case and would get to the bottom of it.
The mayor went on to write to the chief executive of the UK Border Agency, Rob Whiteman. He said that it was critical that visitors to the UK have a great experience. This goes double since the Olympic Games will be coming up soon.