Egypt seizes vessels with more than 200 migrants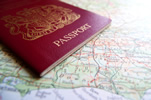 The Egyptian navy has seized three boats in the Mediterranean transporting 228 migrants and detained 17 crew members.
The military announced on Facebook that as part of their ongoing attempts to secure the coast, they sighted three suspicious looking fishing vessels off the port town of Alexandria. The statement went on to say that they found 228 migrants and 17 crew members, with all of the former having been attempting to emigrate illegally from the North African country.
The military did not, however, list the nationalities of the crew or the migrants or say where the operation took place, but revealed that they had been transported to a naval base in Alexandria.
Images posted online showed men, who looked African, sat on a docked vessel at what appeared to be a harbour. One of the pictures a soldier was passing out bottled water, while in another a soldier was bandaging a man's injured foot.
On Saturday, the UN's refugee agency UNHRC said that 366,402 migrants had attempted to cross the Mediterranean this year alone, with 2,800 dying now classed as missing.