60 migrants missing off Libya coastline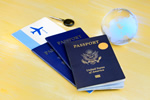 Roughly 60 migrants are reportedly missing off Libya, according to the International Organisation for Migration (IOM).
The IOM made their estimate after interviewing survivors who were rescued from their vessel after it got into trouble in the waters off the North African country.
The Fenice, an Italian rescue ship. Picked up more than 50 of migrants who had been trying to reach Europe on a rubber dinghy after it was spotted by a naval helicopter. The dinghy was said to be sinking when helicopter crew noticed it.
Some 54 survivors were taken to Italy's Lampudesa island, but survivors claimed that there were up to 120 people on board the vessel when it set sail. All were said to be from sub-Saharan Africa. The IOM said that more than 30 of those aboard the dinghy were women, although there were no children.
The UN High Commissioner for Refugees (UNHRC) said last weekend that approximately 250,000 migrants had crossed the Mediterranean Sea to Europe this year alone, of which 124,000 had arrived in Greece and 98,000 in Italy.