More illegal immigrants found in lorry in UK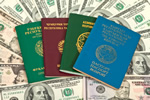 Eighteen suspected illegal immigrants were taken in by police on Saturday after the lorry they were travelling in was apprehended on the M1 in Hertfordshire.
Police were alerted by a suspicious motorist who called in after seeing the lorry of the M25 earlier in the day. They later stopped the vehicle close to junction 9 of the M1 just outside St Albans and found 18 men in the trailer who claimed to be from Vietnam.
The migrants were detained on suspicion of entering the country illegally, while the 40-year-old Polish driver was arrested for assisting entry.
A spokesman confirmed later that 18 people who were suspected of entering the UK illegally on the lorry were taken into custody for their own safety. He added that the driver was arrested on suspicion of assisting people enter the country unlawfully.