Thousands of Jews to quit France for Israel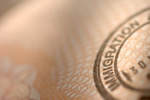 Some 15,000 French Jews are predicted to emigrate from France to Israel amid increasing concerns of anti-Semitism after the deadly kosher supermarket attack last week.
The Jewish Agency chief Natan Sharansky forecast the record number after four Jews were killed in an attack on the kosher supermarket in the French capital. It is thought that Jewish citizens across Europe are now seriously considering their options amid widespread fears of the level of anti-Semitism.
The agency, which is the official organisation overseeing the migration to Israel, revealed that 15,000 movers would equate to more than double 7,000 French immigrants that moved to Israel last year and nearly five times the number who relocated in 2013.
Following the attack, Israel Prime Minister Benjamin Netanyahu urged French Jews to make the move, telling them they would be welcomed with open arms.
Since 2012, the number of French Jews moving to Israel has spiraled, with factors including an Islamist attack on a Jewish school in Toulouse in which four people were killed; the rising levels of hostility Jews say they are having to contend with; and a stagnant French economy.
However, a spokesman for the Jewish Agency noted that Sharansky's prediction was only "preliminary and not a definite". He explained that he arrived at the number after a huge rise in emigration inquiry calls since the attack.