North American Jews emigrating to Israel in record numbers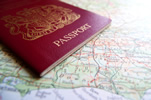 A record number of North American Jews moved to Israel in 2014, according to the Ministry of Immigrant Absorption and the Jewish Agency for Israel.
Last year, more than 3,700 Jews from Canada and the US emigrated to Israel, a seven per cent rise in new arrivals from North America, while there was an increase of 32 per cent in the total number of Jews moving to Israel.
It was the first year in which France contributed the most immigrants, with roughly 7,000 people moving from the European country – twice the number that was recorded in 2013.
Meanwhile, there was also an increase of 10 per cent in lone soldiers travelling to Israel to fight with the IDF, with 350 North American-based Jews enrolling in 2014.
The Jewish Agency chairman of the executive Natan Sharansky said that 2014 was a record-breaking year. He noted that for the first time ever, the number of immigrants arriving in the country from the "free world" was higher than the number of people leaving.
Sharansky went on to explain that it showed how Israel was regarded as a good place to live, and proved the success of their efforts to promote the country and strengthen the ties between Israel and Jews living across the globe. He added that he hoped the next government would continue to work with the Jewish Agency in urging more immigrants to move to Israel.