Migrants offered shelter in Calais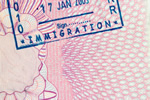 A heated shed has been erected in Calais to protect migrants from the chilly weather currently being experienced in northern France.
The Pas-de-Calais prefecture has put up a 500 square metres shelter for migrants as part of the "great cold weather" initiative put in place by the French government to protect people from the cold weather. The accommodation has around 400 mattresses and each migrant has been given a sleeping bag.
On Friday night, 44 migrants slept in the shed, which is located just a few kilometres from the town's port, viewed by the migrants as the gateway to the UK. The shelter, which is in an industrial zone, which was open from 6:00pm to 9:00 and housed migrants from countries including Ethiopia, Afghanistan and Sudan, many of who had walked in heavy rain to get there.
On Saturday, the wind speed was recorded at 120 kilometres per hour at one stage, resulting in migrants flocking to the shelter – the count was at 160 by 9:00pm. Pas-de-Calais prefecture has said that the site, which is 400 square metres in size, could accommodate as many as 1,500 people.
Roughly 2,300 migrants are camping out in shelters in and around Calais with the dream of getting to the UK. In previous winters that number was between just 300 and 500.