Is Ireland too late to stop its soaring emigration levels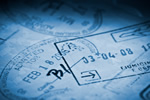 As the emigration level in Ireland continues to soar unchecked, the country's Union of Students is warning that 'too little, too late' isn't working.
Irish emigration figures for this year to April have increased by a huge 45 per cent over the same period last year.Those leaving are those the country needs the most to drive its recovery and recover its economic position.
The vast majority of emigrants are recent graduates or younger, fully qualified professionals, and most leave due to a lack of career opportunities and the threat of unemployment. Long-term jobless figures now make up almost 54 per cent of the unemployment total of 14.5 per cent of the population, and are accelerating at a disastrous rate.
According to Gary Redmond, president of the Union of Students, the urgent need for an official response seems to be off the government's radar. He believes that plans to create Ireland's so-called Smart Economy have stalled, leaving those who need to ensure their future careers to pack up and head overseas, taking with them any chance of a successful economic recovery for the country.
Redmond stated that graduates have two choices, the dole queue or an air ticket to elsewhere in the EU or even further away. He added that governmental silence on this crucial issue is deafening, saying that he feels it may be too late to repair the damage to Ireland's future.