Portuguese students plan to emigrate after graduating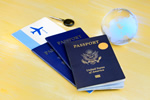 A recent study into the plans of Portuguese students after they graduate has shown that the majority are thinking about travelling broad in order to find work. The study was undertaken between May and June this year by student associations across the country and discovered that 69 per cent intended to emigrate once their studies are completed.
Although the research suggests that most students will be looking to move to countries within Europe, many of the respondents said that informative mechanisms which could help them decide on where to migrate to remain insufficiently detailed.
This, the feel, has led to fewer opportunities for international employment.
The reasons that so many students are thinking about leaving Portugal include the budget adjustments being made within their country and the economic and social alterations being made as a direct result of the financial crisis gripping Portugal and much of the rest of the eurozone.
The study of more than 1,750 students between the ages of 20 and 24, found that architects and engineers were the groups most likely to travel to other countries in Europe or emigrate to the US in order to secure employment.