Ireland to emerge from recession in 2016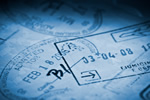 A new study by a digital research agency suggests that just under half of those living in Ireland know somebody who has decided to emigrate. The research, conducted by Sponge It, also revealed that 39 per cent of people knew a member of their family who had decided to join the exodus.
The survey asked respondents a range of questions on how they felt about the current state of the country. Although more than half replied that they thought Ireland to be corrupt and 90 per cent of respondents said that they could not be sure about their future employment prospects, more than half were convinced that things will get better after 2016.
The research found that just over 30 per cent felt they had a good level of job security and 44 per cent said they still believed that Ireland is a land of opportunities. However 50 per cent of those who responded said that at the end of the month they had no money left over and four in every 10 said the lack of job opportunities and high unemployment was a serious danger when it came to happiness and health.
The study also asked what respondents would do if money worries were taken away by a lottery win. The most popular response was to take care of family, then to pay off debts and then to go travelling.
Sponge It director Ger Farrell said he was confident that a little hard work would see Ireland out of recession within half-a-decade.