Economic gloom forces Poles to look abroad for jobs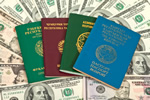 The difficulty of finding a job at home is causing an exodus from Poland, particularly among the educated and the young. Many Poles are worried that the dire economic situation in their country will mean that they will not be able to find a job or further their careers. According to Rzeczpospolita, many have decided to try their luck in other European countries including Norway, Germany, the Netherlands and the UK.
According to the Office for National Statistics in the UK, around one million Poles are living in Britain. The number now calling the UK a permanent home increased from 531,000 in 2009 to 614,000 in 2011.
Experts predict that this number will rise and have estimated that there are currently around 2.5 million Poles with permanent homes outside of Poland.
The National Bank of Poland said that because there has been an increase in Poles choosing to live abroad, the amount of money being sent back home has also risen. The bank said that in the first quarter of this year 928 million euros was sent home compared to 861 million euros transferred during the same three months in 2011.
Krystyna Iglicka-Okolska, migration expert at Warsaw's Lazarski University, said she was surprised at how many Poles had decided to emigrate, adding that the numbers are expected to rise as those living abroad bring their families over to live with them.