Turkey attracting German workers as economy flourishes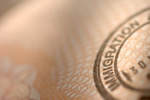 While much of Europe continues to concentrate on finding ways of dealing with the region's debt crisis, neighbouring Turkey appears to be flourishing. For this reason the country is attracting the attention of German firms looking to invest and German-born Turks looking for jobs. Analysts are predicting that as growth declines across the eurozone firms will begin to look to Turkey as a country in which to invest over the longer-term.
Over the last decade Turkey's GDP has expanded by an average of 5.4 per cent every year. Its public debt is lower than many of the other countries in Europe and inflation is under control. Out of a population of 74 million 60 per cent are under the age of 35. As purchasing power increases so has the demand for goods and services.
Of the 30,000 foreign companies currently operating in Turkey some 5,000 are German and last year the number of German-funded companies establishing themselves in Turkey increased by 14 per cent.
Turkey and Germany have enjoyed a close economic relationship for decades. In the 1960s Turks came in their thousands to Germany to fuel its economic miracle. Some decided to stay and Germany now has a Turkish population of around three million, the largest of any immigrant group.
German companies are currently keen to recruit workers from this population, because they are usually fluent in both Turkish and German and comfortable with both cultures, to work in operations in Turkey.