Stark warning against cutting benefits in Londonderry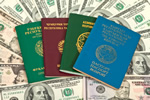 Ministers in Northern Ireland are concerned that the government's proposed cuts to benefits could mean more young people resorting to crime, emigration and suicide. It has emerged that 1,500 people in Londonderry under the age of 25 are currently relying on housing benefits.
The Whitehall reforms will see those benefits cut and David Cameron is even proposing to abolish housing allowance for young people after the next general election. The government is also looking into capping the amount of housing support and reducing allowances for people living in social housing if they have a spare room.
Foyle MLA Mark Durkin is calling on Nelson McCausland, Minister for Social Development, and other politicians to stand against the proposals. He said that it was vital that young people are protected against the negative changes to the welfare system.
Mr Durkin explained that everyone would suffer as a result of the changes, especially Derry's younger population. He added that the removal of housing benefit after 2015 would be nothing short of a catastrophe. Young people do not look to benefits as a lifestyle choice but are forced to it because of a lack of training opportunities and jobs, he continued.
A spokeswoman for Mr McCausland's department said an executive sub-committee had been set up to look into how the proposals will impact the local community, especially the elderly, the young and those with disabilities.