Canada issues record number of visas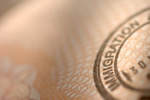 The Canadian government has announced that this year has seen a record number of visas handed out to visitors applying to enter the country. The current figure stands at 500,000 which is a significant increase on the 450,000 which had been approved at the same time in 2011.
Jason Kenney, Minister for Citizenship, Immigration and Multiculturalism, said he was not surprised that so many people were applying to cross into Canada as it is the greatest country in the world. He added that the remote wilderness and the vibrant cities were a draw for both visitors from abroad and Canadian residents.
It is currently the peak tourist season in Canada and the country expects to have issued well over 1 million travel visas by the end of 2012.
The figures do not take into account travellers from the fifty or so countries which do not require visas. These visitors account for around 90 per cent of those crossing the border. The numbers also do not include those people who are in Canada as temporary workers or students.
Citizen and Immigration Canada said it will continue to look after its citizens' safety while making sure that cultural, social and economic prosperity is maintained through one of the world's most generous immigration programs.