Irish unemployment highest for eighteen years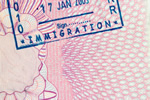 Unemployment in Ireland has hit its highest point in 18 years according to official figures released for June. However the figure has been kept down because of the large number of people choosing to leave the country and look for work abroad.
Ireland currently has a population of 4.5 million. The Central Statistics Office has revealed that in 2011 76,000 people emigrated to other English speaking countries. The most popular destinations were Canada, Australia and Britain. It appears that a similar trend is taking place in 2012.
The level of unemployment rose to 14.9 per cent in June compared to 14.7 per cent the month before. The last time unemployment hit 15 per cent was in March 1994 which was the year the country experienced the start of a reversal of fortune which saw a boom in the economy.
The rapid economic expansion resulted in unemployment tumbling and even saw a wave of immigration to the country. However, it soon became apparent that growth could not be sustained as it was based to a large extent on property speculation and cheap loans from the eurozone.
The boom ended with the global financial crisis of 2008 which caused five banks to be nationalised by the government. In 2010 the International Monetary Fund and the European Union had to step in with bailout measures. However, analysts predict that austerity measures and better-than-expected tax revenues will see Ireland post a healthier 8.0 per cent deficit for 2012.