Migrant figures in UK double in some areas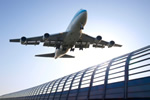 New figures suggest that in some areas of the UK the number of people settling from abroad may be more than double previous estimates. A change in the way the Office for National Statistics calculates its immigration numbers indicates a sharp increase in some parts of Aylesbury, Herefordshire and London.
However, some councils, such as Durham, Norwich and Cambridge appear to have lost as much as half of their immigrant populations. The revised figures have caused concerns that in such areas central government may decide to cut funding to public services.
At the moment there are a number of different ways in which detailed figures for the number of people entering the UK to live, study and work are calculated. The main source of data is the voluntary questionnaire given out at airports and ports.
Under the ONS's new system, those entering the UK will be split up into separate streams depending on whether they have come to work, study or are children. Movement around the country will then be tracked through welfare, education and health registers.
The revised calculations indicate that between 2006 and 2010 the number of people crossing into the UK intending to stay for longer than a year actually fell by 0.4 per cent. However in London the calculations show a 16 per cent rise. Migration Watch UK chairman, Sir Andrew Green, said that such an increase had far reaching implications for health services, housing and schools.