40k Irish nationals emigrated in 2011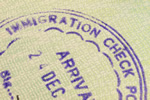 According to a recent detailed study, the rate of Irish people emigrating is now higher than the amount of immigrants who entered during the employment boom. The Organisation for Economic Co-operation and Development (OECD) reports that over 76,000 people emigrated from the country in 2011.
This number has nearly tripled in comparison to the 29,000 who left the country in 2005. Over 40,000 of these migrants were Irish nationals. This 40,000 number surpasses the residual 36,000 emigrants, of whom the bulk came from the original eight European Union countries. The remainder were mainly born in EU states which were more recently added — nearly 15,600 people. 


This mass departure has been attributed to the recent fall in the nation's economy, as Ireland lost nearly 300,000 jobs since the start of the financial crisis. 


The OECD research, however, has also revealed that during the same time period there was a small but important growth in the number of immigrants arriving or coming back to Ireland during the last 18 months.


Even though the 2011 rate is 11,000 higher than just one year earlier, the overall immigration rates have dropped from 110,000 (2007) to 42,000 (2011). This small increase is due to a rise in Irish people coming back home, and immigration from outside and within the EU, according to the OECD.