8 Cubans flee Mexican immigration facility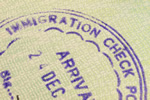 A communiqué has been released for eight Cubans who fled an immigration detention camp in the Mexican state of Veracruz. The eight Cuban runaways, whose immigration statuses are not yet known, fled the Acayucan facility early last Friday, said the National Migration Institute (INM).
When the escape was discovered, a report was made with federal prosecutors, which opened up an investigation, said the INM. Federal law enforcement authorities and local police have been informed of the escape, added the INM.
Officials said that the head of the Acayucan immigration detention camp and the regional INM director were taken to Mexico City and forced to explain how the escape occurred.
En route to the United States, migrants from various nations take a path via the coastal state of Veracruz. Cubans enter Mexico unlawfully in order find their way into the United States.
Cuba and Mexico signed an immigration accord in October 2008 guaranteeing a legal and safe migration flow. The agreement requires the Cuban government to take back all unlawful Cuban immigrants in the custody of Mexican authorities.
Previously, Cuba's government would take back illegal emigrants stopped on high seas, although it refused to take back Cubans stopped on Mexican soil while migrating to the United States.