Scottish emigrant wins Australian award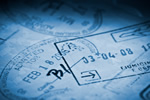 Professor Ian Frazer, a Glasgow-born academic, is one of eight to be named Companion of the Order of Australia – the country's most prestigious award – for his pioneering research which helped develop the Human Papilloma Virus vaccine against cervical cancer.
Professor Frazer, who was also named 2006 Australian of the Year, attended the University of Edinburgh, where he received his Bachelor of Science, as well as his medical and surgery degrees. He was hired by the Edinburgh Eastern General Hospital, the Roodlands General Hospital and the Edinburgh Royal Infirmary, before movin to Australia in 1980.
Ever since his move to Down Under, Professor Frazer, who is now 59, has been working at the Queensland's Diamantina Institute. He has received around two-dozen other recognitions, including the Australian Biotechnology prize (1999), and the prime minister's science award (2008).
He says it is key for people to remember that the benefits they receive today from medical research are due to scientists' hard work 20 years ago. This was when the public funded research, he added.