Canada shuts down Tehran visa section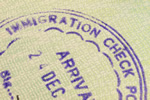 As reported by France 24, the Canadian embassy in Tehran has shut down its visa section as a cost-cutting step which will have an effect on thousands of Iranians. The visa services have now been transferred to Canada's embassy in Ankara, in neighbouring Turkey.
People who called the embassy were also told that the visa section had closed down and no longer accepted visa applications. The embassy announced that the closure was determined by the department of Citizenship and Immigration Canada, which frequently seeks new ways of conducting business more efficiently and effectively.
The department stated that the decision on the Tehran embassy's visa section was "not uncommon", explaining that a new computerised scheme was allowing visa officers around the globe to split up the workload.
According to the 2006 census data, there are over 120,000 people of Persian descent or origin residing in Canada, and thousands of their relatives living in Iran visit them each year. More and more educated Iranians are now seeing Canada as an attractive destination to move to, although limitations on this flow have recently been enforced.
The closure of the visa office further trimmed down options for Iranians seeking to travel to Western countries, following the UK's decision at in November 2011 to shut down its embassy completely after Iranian pro-regime radicals stormed it.
The United States has not had an embassy in Iran since 1980 after radical Islamic students ambushed the building and held 52 US citizens hostage for 444 days.