Aussie Customs intercepts boat with 55 asylum seekers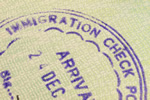 As reported by the Australian, a boat full of asylum-seekers was intercepted yesterday by customs near the Australian mainland, one week after 10 Chinese citizens arrived to Darwin by boat. Jason Clare, Australia's Home Affairs Minister, has confirmed the interception of a boat southwest of Browse Island which was carrying 55 asylum-seekers as well as two crew members.
Browse Island is around 150 kilometres from the Western Australian coast, compared to Christmas Island (where many asylum vessels reach), which is around 1900 kilometres from the Australian coastline. Yesterday's vessel was the tenth to come in April, making it the fifth in one week.
This means a total of 404 asylum-seekers have arrived in Australia since April 10. In 2012 alone there have been 1907 asylum-seekers already arriving to Australian waters on a total of 26 boats.
Mr Clare said that the latest group would be taken to Christmas Island for an initial health, security and identity check.
The interception occurs after 10 Chinese people reached Darwin earlier in April. They were on their way to New Zealand. The group included a six-year-old girl as well as an eight-year-old boy; they all decided to stay in Australia after days of dialogue with immigration officials on the perils of the 3000 kilometre journey to New Zealand.