Peters urges NZ to examine immigration blunder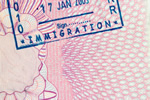 As reported by News Talk ZB, First leader of New Zealand Winston Peters is urging heads to roll over bureaucratic ineptitude which caused an illegal migrant banned from the country to still receive $360 a week from an illness benefit.
In 2008, Salam Mansoor Abdelabbas Al-Bawi received a sentence of six months in home detention, after admitting that he lied to authorities in order to gain refugee status, as well as New Zealand citizenship and a passport with a different name. The Iraqi man already held residency in Denmark, and had a conviction for kidnapping that he failed to declare.
Whoever is responsible for the bungles must be examined and it is time for inept people working at the top to be fired, argued Mr Peters. The leader called it an absolute mess, adding that the country seemed completely unable to operate a system which other first world nations can administer.
Al-Bawi's New Zealand citizenship has been revoked and his passport cancelled. However, Work and Income states it did not know about it. Work and Income admits there was only a slight $2,500 overpayment to Mr Al Bawi.
Spokeswoman Janet Grossman states that the matter is being looked at with the Department of Internal Affairs and Immigration New Zealand. If Al-Bawi ever returns to New Zealand, the agency would pursue the money he owes for as much time as it takes.