Half of global employees willing to emigrate overseas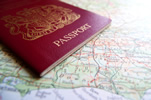 As reported by Reuters, nearly 50% of workers globally would consider emigrating overseas for the right job, a salary increase and other incentives, including language training and trips home, according to a survey published on Monday.
With the world economy still struggling, workers in Mexico, Turkey, Brazil, Russia and India were the most eager to take on new opportunities, while employees in Sweden, Belgium and the United States preferred to remain closer to home, revealed the Ipsos international poll. Nearly 20% of those surveyed said they would be very willing to work overseas for 2-3 years if given a 10% salary raise, and 30% stated it was an option they would consider.
Keren Gottfried, who is research manager for Ipsos Global Public Affairs, points out that half the worker population in 24 nations are willing to take an assignment abroad. Considering the world's increasing globalization and multiple-nation business portfolios, employers are seeing the international experience as an asset, Gottfried explained.
At nearly 40%, higher salary was cited as the key incentive for employees to venture overseas, followed by higher living conditions, a positive career move, new adventure and needing a change. The guarantee to continue their current position after two years abroad was another key incentive in considering a move.