Home Office Allows Foreign Criminals to Escape Deportation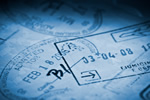 Typically, the Home Office does a good job of keeping foreign criminals out of the country. However, every agency has their mess ups. Well, this just so happens to be the case with the Home Office as well. This news comes in as eight violent foreign criminals have been able to escape deportation because of a series of Home Office "blunders."
These eight foreigners have committed some very serious crimes. This includes killing, sexual assaults, and other violent offenses. After these men served their time, they were released without being considered for deportation.
Experts say that their files should have been examined by immigration officials as the end of their jail term approached. If officials could deport these men, then they should have been transferred to immigration detention centers and not released back into the public.
So far, it is said that two of these men have already won the right to stay in Britain. Apparently, one of these men was able to win his right to stay in the country on human rights grounds.
However, the bad news does not stop there. These same reports go on to show that an unknown number of "less serious offenders" have also been set free. By less serious, they mean people who were convicted of drug dealing and robbery.
Some say that this mix up brings up memories of a similar situation five years ago. That previous blunder led to the then-home secretary, Charles Clarke, being canned. Now it would appear that Theresa May could now have to answer for these problems.