Couple Claims Immigration Rules Are In Breach of Human Rights Laws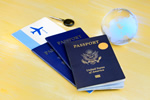 Recently the government has been changing a number of immigration laws in order to help keep the number of migrants coming to the UK down. One of these rules was the one that required people to be able to speak English when they moved to the UK. Now, however, it seems that some migrants are fighting back against this requirement in court.
Just recently, a couple requested a judicial review of this requirement. The couple says that this rule is keeping them from the right to a family. Not only that, but they feel that the law is very discriminatory.
So what couple is fighting this requirement? Well, one of them is Rashida Chapti, age 54, who is a British citizen. She wants her husband, age 57, to be able to come live with her. Currently he is an Indian national, and he does not speak, read or write English. She has been flying back and forth from England to India for the last 15 years to see him. Now, she says she misses her husband and wants him to come live with her in England. However, this new requirement is keeping that from happening.
The couple has been together for more than 37 years, and they have six kids together. Mrs Chapti, when speaking from her home in Leicester, said that she just wants to be with her husband. She believes that she has every right for him to come be with her. Of course, he is too old to learn English, and that is apparently the problem. He does have a job lined up for him once he gets here, as a machinist. He would be a valued member of society and will do his part. He is not looking for a free ride.