Unemployed Man Uses Billboard to Try and Fight Emigration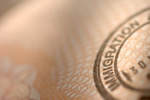 There have been a lot of reports in the news lately about emigration. There are some places around the world that are trying to fight emigration by keeping their own people within the country. However, it is not very often that people hear about people using billboards to try and fight their own emigration.
That's right, just recently an unemployed man came up with a very creative way to get a job. After being unemployed for almost a year, a Galway man rented a billboard on Merrion Road in Dublin for two weeks. His goal here is to attract attention to his idea of leaving the country.
The man, Feilim Mac An Iomaire, who is now being called the "Jobless Paddy," has rented a double-sided ad. This ad shows a man standing on the seashore with a suitcase in his hand. In the horizon there is a number of foreign landmarks, including the Sydney Opera House and the Status of Liberty. These are apparently places he is thinking of emigrating to where he feels he would have a better chance to make a life for himself.
At the bottom of the billboard there is a caption that says, "Save me from Emigration." It then goes on to say that people can get more information about him, as well as his C.V. contact information, by sending him an email at the email address that he listed on the billboard.
Mr Mac An Iomaire apparently said that he was motivated to take this kind of action after he was unable to get a job when he came back from working in Australia for a year. After coming back home, he said that he applied for more than 100 jobs, but all went without success.
Apparently he has told the media that he does not want to leave Ireland again. He would prefer to stay there and develop his career. However, if he is not able to get a job by the end of June, he will be forced to emigrate once again.