181,000 Migrants Said to be In Britain on Expired Visas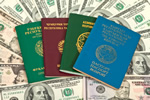 It seems that there is just no end to the bad immigration press that continues to slam Britain. This time the bad news comes in the form of 181,000 migrants who are said to be living in Britain on expired visas. To make matters even worse, the UK Border Agency has no idea where these people are.
According to these reports, this total does include workers and students who came to the UK from outside the European Union. Many of them should have left the country during the past two years, but have yet to do so. Most experts say that these people have no plans of ever returning back home.
This came to light after UK Border agency bosses admitted that they have no idea how many people have returned home. This is because they admitted that they do not keep count of people out of the country.
Of course, there is some good news on the way. Apparently there is a new system that is going to be put in place that will monitor everyone who departs. However, this good news is bitter-sweet since this system is not going to be in place for another two years. By that time, many more people will have overstayed their visas.
This report was drawn up by the Commons Public Accounts Committee. They have slammed the UK Border Agency by saying that the agency should not use the lack of "exit controls" to simply excuse and ignore thousands of people who continue to live in the UK illegally. This is a problem that the agency has to get a grip on.