UK Government Sends 52 Nigerians Back Home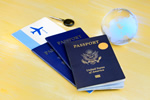 The UK government has not given up on its plans to rid the UK of as many illegal migrants as possible. In fact, just yesterday, the UK government saw some 52 Nigerians deported back to their home land. This move was confirmed by a Nigerian official at the High Commission in London.
The head of the Immigration Section of the Nigerian High Commission in the UK, Mr Mohammed Isa, said that the 52 Nigerians deported would be arriving at the Murtala Mohammed International Airport by way of a charter flight. The flight includes those who have either completed their prison terms, failed to gain asylum or have overstayed their welcome. Either way, the plane is full of people who are not welcome in the UK.
He went on to say that the people leaving by way of this charter flight are going to be accompanied by British law enforcement officials. This is the very first time that a characterized flight, conveying Nigeria deportees, would be accompanied by such officials. He then said that it is their responsibility to ensure that the deportees are treated in a very human and dignified manner during this trip, and they do not want any problems.
This move by the UK government does not shock many people. Currently the UK is in the middle of trying to get as many people out of the UK that do not have the right to be there. Taxpayers end up losing a lot of money on people who should have already been removed from the country a long time ago. The UK government is looking to justify that situation.