Emigration Officer Loses His Job After Putting His Wife on Terrorist List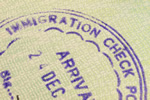 People have always used the saying, "leave your personal life at home." Well if this one emigration officer would have listened to that saying he may still have a job. Reports show that an emigration officer was fired after he tried to stick his wife on a watch list of people banned from boarding flights into Britain.
Apparently the man did this in an attempt to get rid of his wife. After his wife left the country to fly to Pakistan to see family, he put her on the terrorist watch list. Thus, for the past three years, she has not been able to return to the UK from Pakistan.
This little stunt of his would have went unnoticed for longer had he not been selected for a promotion and his wife's name was found on the suspects' list during a vetting inquiry. Needless to say, the Home Office confirmed that the man has been canned for what they are calling gross misconduct. Of course, something like this clearly also falls under abusing authority.
This little stunt is likely to raise a lot of new questions at the UK Border Agency. One problem that clearly needs to be addressed is the level of efficiency at the UK Border Agency. It is not very reassuring to know that, if someone upsets a UK Border Agency official, they can could have that person banned from returning to the UK. In this case, the lady was banned for three years, and she just got discovered by chance.
A spokesman for the agency said that they expect the highest level of integrity out of their officials. Allegations of misconduct are thoroughly investigated, and the agency always takes swift action when needed.