Czech Republic to Finally End Tests Preformed on Gay Asylum Seekers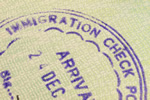 The Czech Republic apparently will no longer require gay asylum seekers to undergo their very unpopular arousal tests to prove that they are homosexual. The dropping of this test comes after they faced criticism that the procedure was humiliating.
This testing method, which is currently known as phallometry, was invented in the 1950s by a Prague-based sexologist. It is actually widely used today to determine the sexual orientation and deviation of a person.
A spokesperson for the Czech interior ministry, Vldimir Repka, said that the asylum applicants would not be given the test unless they ask for it themselves in order to improve their chances for asylum. It is still believed that some asylum seekers will ask for the test.
The Vienna-based European Union Agency for Fundamental Rights has already slammed Czech authorities for using this test. Pretty much, sexologists use this test to measure the sexual arousal of gay and lesbian asylum seekers while they watch porn.
The agency has already argued in a November report that such testing was unreliable and potentially a violation of Article 3 of the European Convention on Human Rights. This is an article that bans torture and inhumane treatment.
Of course, it did not seem to be the Czech authorities' intent to humiliate anyone. Some experts said that many authorities believe that this test is very helpful and can be used to help them make the right choice. However, how many asylum seekers that will ask for the test has yet to be seen. Many think that asylum seekers will ask for the test simply to improve their chances of getting accepted.