UK Border Agency Catches 18 Illegal Emigrants in Raids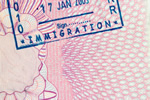 Just recently, enforcement officers from the UK Border Agency ran a few raids on businesses across Gwent. During these raids the agents were able to find a total of 18 emigration offenders. The raids went on for a whole week across the area. They came about due to some information that was received by the agency.
Back on October 13, officers visited Nisa Stores, Aberthaw Road, Newport. There they found a 29-year-old Pakistani man working behind the counter. He was later found to have been in the UK illegally. Another raid on the same day at the Sing Lee restaurant, Cross Street, Abergayenny found three men aged 36, 33, and 31. These men were found working in the kitchen. However, another man, age 36, was found in attached accommodations.
Then on October 14, two Pakistani men, aged 26 and 23, were found working illegally at Shahbaz Tikka. Another man, who was 45-years-old, was found to have overstayed his visa. He was found working behind the counter at Hot Spot, Carmel Street, Abertillery.
Other businesses were also hit and more illegal emigrants were found. So what does this mean for the companies? Well it now seems that all of the businesses, seven in total, have been served with civil penalty notices. Pretty much this warns the employers that if they fail to provide evidence that they did the correct "right to work checks" then they could be fined up to £10,000 for each illegal worker. This is a lot of money for a company to pay during a time when money is tight.