UK Border Agency Jails Illegal Emigrant For Deception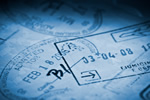 Apparently an illegal emigrant, who was living in Skegness, has just recently been sentenced to up to 6 months in prison. This jail time was given to him after applying to stay in the UK using a false identity. Samad Ahmad, age 30, was sentenced on August 23 in Lincoln Crown Court after he previously admitted to two offenses under the Emigration Act of 1971.
Ahmad was arrested, with 4 other men, on June 4 of this year. He was arrested during a UK Border Agency raid at the Taste of India in Roman Bank. This area was targeted for reports on illegal emigrants working there.
Apparently Ahmad had a visa but then overstayed his welcome. He had no permission to remain in the UK at all but made a number of fraudulent applications under a different identity in an attempt to stay in the country.
He was sentenced to a full 4 months for one offense and 6 for the other. These two sentences will be served concurrently. After he has served his time, the UK Border Agency will seek to remove him from the country as soon as possible.
Back on August 20, another emigration offender was remanded in custody after he appeared in Skegness Magistrates Court. He was charged with trying to avoid being removed from the UK by providing false details to the UK Border Agency.
Thus, it is very easy to see that giving out false information to the UK border Agency is not something that the group is prepared to tolerate. Emigrants that give fake information will be given jail sentences and then normally removed afterward.