Emigration to the United States leaves towns in Mexico devastated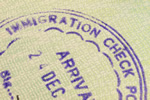 The last 15 years has been a time of study emigration in Mexico.  Many residents are leaving for the United States and in the wake of their exits some small towns in Mexico are slowly becoming forgotten. 
 One town that has been hit particularly hard is called Zacatecas which is located a few hundred miles northwest of Mexico City.  Nearly two million people have emigrated and are now living in the United States. A resident of the town is Dr. Manuel Valadez Lopez who said in response to the declining population in Zacatecas "You've seen what this place is like. There has not been even minimal development here.  There is not a single yard of pavement.  The few people who have sidewalks in front of their houses built them themselves.  Most people defecate outdoors."  Dr. Lopez himself once immigrated to Guadalajara in search of a better education where he trained to become a doctor.  However he is one of the few to return to the stricken town in an effort to help. The clinic that Dr. Lopez runs does not even have clean running water which increases the risk of infection.  The sewage system at the clinic was built by the staff themselves.
 Many questions are arising regarding the number of immigrants that are entering the United States.  Each year around half a million people enter the United States to in search of employment.  Studies are being conducted to determine the impact of this broad emigration on Mexico.