New UK Emigration Rules Could Put Pressure on Marriages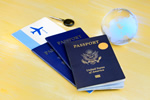 Apparently there is a new growing concern regarding some new emigration laws. This news comes as the UK government announces that foreign spouses should demonstrate language conception before they join their partners.
Right now, under the UK's current emigration rules, all foreign nationals who are in a long term relationship or are married to British citizens can join their partners to live in the UK. All they have to do is prove that their union is genuine. However, starting autumn of this year, they will now have to prove that they can speak English by taking a language test before they can apply for their visa.
The Home Office, which has been working on this rule change since 2008, said that this requires spouses to demonstrate that they can speak basic English. This should help them integrate into society quickly and get better paying jobs. This will also help the government reinforce the message that all emigrants coming to the UK must actively develop their language skills.
However, language testers and even teachers are concerned that this approach means that the UK government is relying too heavily on these tests. These tests may not produce consistent results and will be difficult for some people to access.
Right now the main focus for concern is the use of more than 30 generic English language tests in the application process. This range would appear to be an advantage for applicants. However, very few of these tests are available outside the UK. The new rules demand that hey be taken, and many of those that are available are unsuitable because they they assess specialist skills, such as business and academic English.