Failed UK Asylum Seeker Jailed for Killing Elderly Pedestrian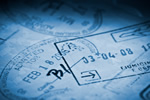 Reports have now shown that a failed asylum seeker, who went on the run after knocking down and killing an elderly pedestrian in Leeds, has been jailed for at least three years. Takeaway chef, Tian Bin Xue, age 37, reversed into Olive Stephens and dragged the elderly woman under his car before running over her and driving away.
Olive Stephens, age 91, is a widow and was left with multiple fractures. She later died from her injuries following the accident in Leeds back in 2006. During this time, Xue, fled the country. He had tried and failed on two occasions to stay in the UK. He was somehow able to flee the country despite a nationwide appeal to trace him.
He was found nearly four years later hiding in a cupboard above Zen Zen takeaway in Blackburn. Leeds Crown Court was told that Xue was found hiding in a built in cupboard behind some clothes on January 15
th
this year.
The victim was described as being fit as a fiddle. She often laughed and joked with her friends. She lived in sheltered accommodations, and on the day of the accident she had been out for lunch at a Salvation Army Church.
Xue, who had just been to a job interview at a Chinese takeaway in Beeston, reversed out of a side street into the main road. This is where he knocked over the old woman. The reversing maneuver was described as very dangerous.
The court was told that Xue did not realize he had struck anybody and panicked when a nationwide appeal to find him was made. However, the court was also told he should have been aware of something under the car as it traveled.