UK Emigration Cap Said to be Unreachable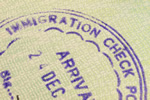 According to reports, many are saying that a fixed cap on emigration to the UK could be a political goal. The center left Institute for Public Policy Research said, however, that a cap would be an unworkable policy.
Tory leader David Cameron has pledged to set a cap on net emigration but said that the level should be decided each year according to the needs of the country and the economy. He went on to say that net emigration should be in the tens of thousands rather than the hundreds of thousands.
However, the Institute for Public Policy Research said the Tory pledge would be very difficult to achieve if improvements in the economy lead to increases in work-related migration. A cap of 40,000, as proposed by the Cross Party Group on Balance Migration would mean a very drastic change would have to take place. It would threaten both economic performance and the rights of British nationals.
David Cameron said that he thinks that everyone needs to set the cap each year according to the needs of the economy. He went on to say that this is not something that can be done in advance. The reason for capping emigration is because there has been pressure in the last decade on services like health, housing and education. There should be an overall limit on emigrants from outside the European Union, and they need to have a better understanding of the student visa situation.
Sarah Mulley of the Institute of Public Policy Research said that, to avoid busting the cap in any one year, ministers would fine themselves having to stop football clubs from buying up foreign players. Even major British companies would have to be stopped from bringing in overseas experts that they need to preserve their global competitiveness.