Failed Asylum Seekers See Driving Rules Tightened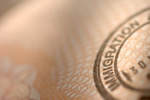 According to new reports, failed asylum seekers given temporary leave to remain in the UK will no longer be able to apply for their driving license. This update comes under a new set of government rules.
The Department of Transport says that only people granted permission to stay in the country for 185 days or more will be eligible to take the driving test. This change applies to people from outside the European Economic Area and does not affect those from within it.
The transport minister, Paul Clark, said that it was the right policy. The rule change has been implemented under existing laws, meaning that it will not need to be approved by Parliament or debated by MP's.
In a statement that was written to the House of Commons, Mr Clark said that, as a preliminary measure, he was informing the house that from yesterday on, those who are applying for a provisional, as well as full driving license, will have to demonstrate that they are lawful residents of the UK. They can no longer simply be lawfully present in order to qualify for a driving license.
He went on to say that those who are present in the UK on temporary permission or temporary release under the Emigration Act of 1971 will not be considered eligible fro a driving license. The people granted leave to enter or remain in the UK for at least 185 days will continue to be able to apply for a license whilst their leave is extant – of course, that is provided that they otherwise qualify for such a license. It is right that those who have undecided status should not be able to seek benefits of ordinary life in the UK.