Chancellor Alistair Darling Announces the 2010 UK Budget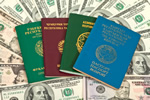 According to recent reports, Chancellor Alistair Darling has just recently announced the 2010 UK Budget. This budget, which was introduced this past Wednesday, included a number of big changes.
First of all, something that effects just about everyone in the UK, is a planned 2.76p increase in fuel duty. This is set to start next month, but will be phased in to help reduce the impact on the economy. This new move, which is already expected to add more than £2 to the cost of refilling a large car, is set to rise by 1p in April, 1p in October, and the remaining 0.76p in January of 2011. Darling said that, by the time the full duty increase comes into effect, it should be right in line with inflation.
This new decision follows a warning from the AA last week that said petrol prices were on track to hit a record high of 124p a liter by Easter. The average price of petrol has shot up 4p a liter in the past month. This is its highest level since July of 2008.
The new budget will also see a crack down on tax avoiders who try to hide their income in tax haves offshore. These tax cheaters have been targeted with a wide ranging package of anti-avoidance measures, which will raise £500 million and protect tax revenues of £4 billion.
To help identify the people that are using these havens, the government has signed a new tax information exchange agreement with three well known havens: Grenada, Belize, and Dominica. An enhanced information exchange agreement has been signed with Liechtenstein, and the chancellor said the other 3 new agreements will be signed within a few days.