UK Border Agency Loses Battle Against Snoop Dogg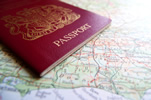 One of the most well known controversial rappers in the United States, Snoop Dogg, has just recently won the latest round in a long running battle with the UK Border Agency. This win allows Snoop Dogg to be allowed to enter into the country yet again.
Snoop Dogg is 38 years ol,d and his real name is Calvin Broadus. He was originally denied entry into the UK back in 2007. This forced him and fellow rapper P Diddy to cancel the British dates of their European tour.
Apparently the ban on Snoop Dogg related to his arrest at Heathrow airport back in 2006, following an altercation involving members of his entourage. In 2008, the ban was lifted when an emigration judge found no evidence that the rapper had been responsible for any kind of public disorder.
However, the UK Border Agency could not leave it at that. This agency went on to challenge the decision, and it went to an asylum and emigration tribunal. Just last week the tribunal announced its decision that to deny Snoop Dogg entry was wrong. The UK Border Agency said that they are disappointed by the tribunal's decision in the case. They said that they are studying the determination carefully and will make a decision whether to appeal or not.
Snoop Dogg has had a few brushes with the law in recent years. Back in 2007 he pleaded no contest to gun and drugs charges in the United States. The same year he was also barred from entering Australia after failing a character test. Last year he was cleared of assaulting a fan at a 2005 gig in Seattle.